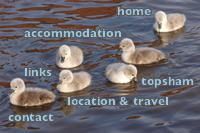 Sunset from Topsham quay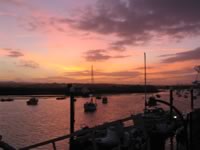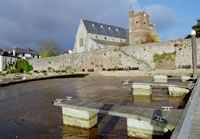 Family cycling in Haldon Forest Park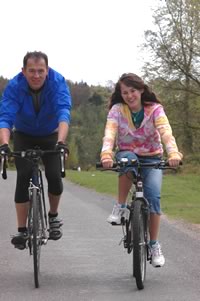 The Lively Hope, Topsham, Devon
Topsham, Devon
Topsham, the former port of Exeter, is itself a great destination in its own right. The town has a long and ancient history. Originally a Roman hamlet, Topsham's town charter dates back to 1300. Its shipyards supplied boats to sail against the Spanish Armada. Once a lively port, today most traffic on the Exe estuary consists of pleasure craft, though commercial salmon fishermen still work the river, shooting their nets out at low tide in search of elusive, prized (and delicious) Exe salmon. Topsham's historic past is evident in its fascinating Dutch-inspired architecture along The Strand.
Activities for everyone
Topsham has a sailing club, bowling green, heated outdoor swimming pool (open early mornings for 'The Nutters Club'), tennis courts and a recreational ground with children's playground and skateboard park. There are numerous other activities to pursue, virtually on the doorstep: walking, sailing, windsurfing, kite-surfing, canoeing, cycling (a traffic-free cycle path runs to Exeter), golf (at Nigel Mansell's nearby Woodbury Park), bird watching (the Exe estuary is a protected bird sanctuary) and much more.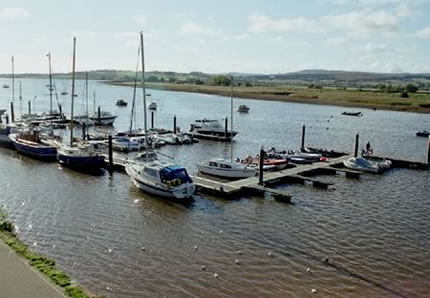 View from St Margaret's Churchyard to Trout's Boatyard
A great place to visit, a great place to live
Topsham clearly has a great deal going for it! Yet for all this, it is not and has never been particularly a 'tourist' town, quite simply because there is very limited accommodation here. So it remains a real place – not a picture postcard Devon village – where people live and work. All the more reason to come and enjoy a stay at The Lively Hope.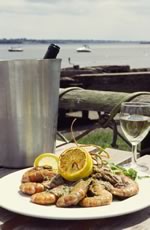 Topsham has great food and drink shops — an excellent butcher and delicatessan, an award winning West Country cheese shop, a greengrocer, mobile fishmonger (Tue, Thur, Fri and Sat), Coop convenience store, two excellent wine outlets, Topsham Wines and Vino, and its own vineyard, Pebblebed.
There is no shortage of good places to eat and drink. La Petite Maison, just around the corner from The Lively Hope, is a fine award-winning restaurant serving French-inspired foods impeccably prepared with fine local produce. The Galley serves imaginative fish and shellfish fresh off the boats. Oliva is casual, Mediterranean-inspired, serving good paella. Saffron at Denley's is a contemporary Indian restaurant and wine bar. Many of the pubs serve good food, too, notably The Globe.
The Café, Avocet Café and Broadway House are popular cafes serving good food at lunch times and homebaked cakes and pastries throughout the day.


The Topsham Ten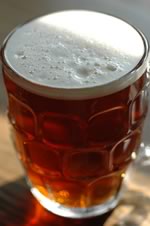 For a relatively small community, there is a quite disproportionate number of public houses, perhaps due to its colourful maritime past. Topsham boasts at least ten pubs at last count, including the award winning Bridge Inn (the only pub visited by Her Majesty the Queen). Doing 'The Topsham Ten' is a popular activity for Exeter University students and other thirsty topers in search of a challenge.